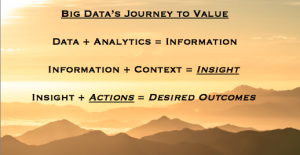 We all know the 2015 buzzwords: "Big Data", "Analytics", "Data Lake", "Internet of Things". All well and good.
But for every industry and business, there's a wise Big Data saying that goes like this:
(Big) Data + Analytics = Information
Information + Context = Insight
Insight +

Actionable Systems

= Desired Outcomes
You'll notice that in the game of Big Data, the accumulation of (valuable new technology-driven) data (about your customers, about your internal efficiencies) is only the first step.
Innovation, business competitive advantage and results, only comes out of Big Data if you have Actionable Systems that can create Desired Outcomes.
The real trick, therefore, is creating within your business, actionable systems and processes that know how to take the right accumulated insights (derived from data), and put that right data into right actions at right time.
Make sure you add this 2nd step to any of your conversations around business competitiveness in today's hyper-rich innovation, data-rich, internet-scale environment.
In researching this short post, I could find literally millions of Big Data word clouds on Google Images. But word clouds that combine "Big Data" and "Actionable Systems" or similar? Nada. Nothing. I think there's a message there.
Interested in learning more?  I explore this 3-step concept in more detail here in a Slideshare.net – a fully downloadable PowerPoint presentation for you to use any way you see fit. Just give me credit as the author, and go for it for yourself.
If you're in Southwest Florida, the Suncoast Technology Forum April 21st, 2015 Healthcare Technology Executive Panel discussion luncheon in Sarasota,"Emerging Technologies Impacting Suncoast Florida Healthcare", is entirely about this idea of how to make data actionable. I'm the moderator, see more here.
Whether is it is healthcare or any other industry, remember:
(Big) Data + Analytics = Information
Information + Context = Insight
Insight +

Actionable Systems

= Desired Outcomes
I hope you find this helpful. If you do, connect with me, find me on Twitter:http://twitter.com/John_Sing
Sources: IBM is who I've seen as a major propagator of this concept:
http://www.ibm.com/smarterplanet/global/files/the_value_of_analytics_in_healthcare.pdf
http://www.smartercomputingblog.com/power-systems/big-data-analytics/
John Sing, Offering Evangelist, IBM Spectrum Scale, ESS, DeepFlash