It's not easy to keep 1000's of daily IT industry internet-based research information and URLs organized and retrievable.   Every day, the number of URL and links I've felt worthwhile to save for future reference, keeps on growing and growing.  And, how to *find* them later when I need to?
To solve that, several years ago, I started using social bookmarking tools to organize and make easily keyword retrievable for myself, for any links that I found worth saving.   I currently use delicious.com ; there's many good ones out there.
The really cool thing is, if you want follow along and benefit from my daily IT industry research, all you have to do is click on this URL http://www.delicious.com/atsf_arizona , or the screenshot below, and see what I've found today, or yesterday, or the day before, or ……    Click this screen shot to see my bookmarks: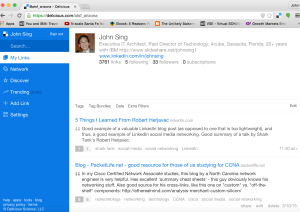 Every link has commentary to help you decide if it's useful to you.
Great thing is, the entries are keyword tagged (that's how I find the link later when I look for it).   In other words, when I want find my research later, all I (or you) have to do is just append the desired keyword to the URL in the browser window.   For example, this link will show everything I've bookmarked and tagged with the keywords "Google" and "Apple":
https://delicious.com/atsf_arizona/Google,Apple
You're welcome to use any of my links and information however you wish – it's purposely shared publically to help you take advantage of it for your own purposes.
I hope this is helpful.
All the best,
John Sing